In Peace and Harmony with Nature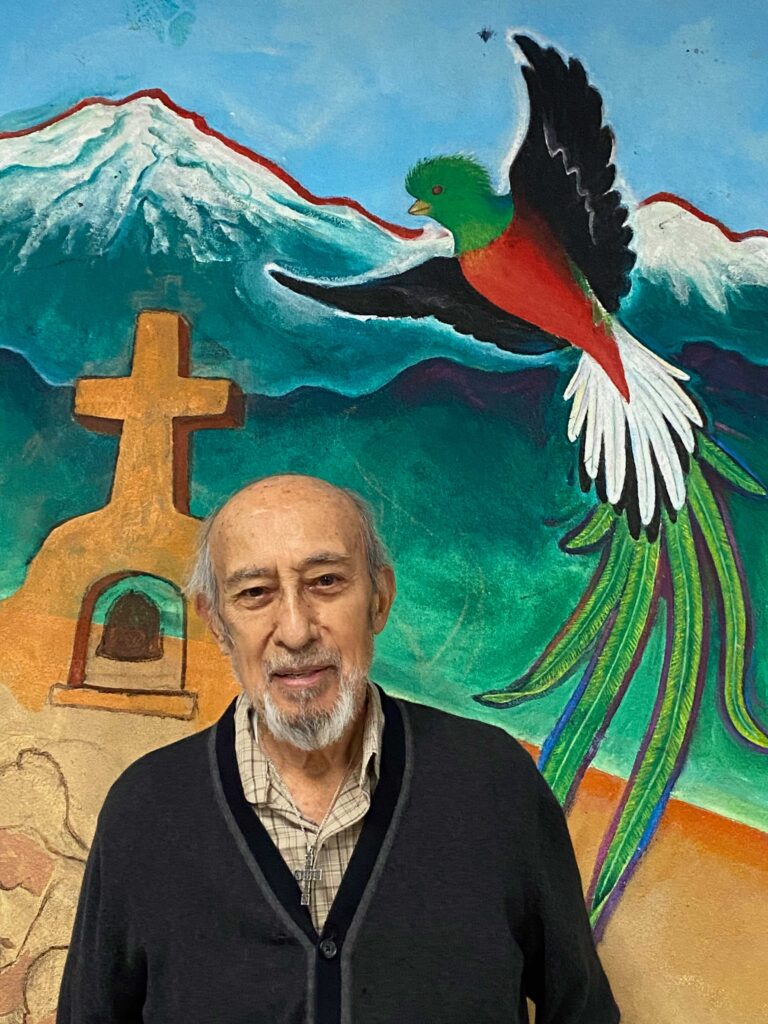 8222 Ammons Circle Arvada, Colorado 80005
Phone: (303) 668-5606
ARTIST'S STATEMENT

From poor rural areas to urban barrios, public schools, prisons, universities, museums and many other places, I have tried to take public art to the people of Colorado.
My upbringing by farm-worker parents with their values and religious beliefs as well as my later participation in the Mexican-American Civil Rights Movement, inspired me to paint meaningful murals for more forty years. Studying under African-American professor and muralist, Dr. John T. Biggers, at Texas Southern University in Houston, increased my understanding of and ability to paint murals. I was fortunate also to meet and become acquainted with the Mexican mural master, David Alfaro Siqueiros. I have studied Mexican mural art and have known contemporary mural painters in Mexico and the U.S. Likewise, I have studied American mural painters, Thomas Hart Benton, John Steuart Curry, and others. A new art form, Sculptural Mural Painting, is my, own innovation. My experience has well prepared me to paint meaningful, challenging, and beautiful murals reflecting the struggle for liberation. 
MURAL WORKS (Partial list)

In Memory of Our Heroes
Sculptural mural, 9′ h x 15′ w. Project YES! Youth group. Lafayette, Colorado. Painted by 10-12 middle school youths under my direction in memory of the World Trade Center attack November-December 2001.
A New Generation
7.5′ h x 26t w. By 10 fifth graders under my direction. Pioneer Elementary School, Lafayette, Colorado. April-May 2001.
The Life and Times of Dr. Martin Candelaria, 1897-1996
Commissioned by the University of Northern Colorado, 1998-2000. Murals on stairwell and tower, approximately 1500 sq. ft. Candelaria Hall, University of Northern Colorado. On the life and times of UNCs first Hispanic professor, a greatly beloved and respected teacher and community leader.
Planting Love
Sculptural mural, 8.5 ft. high x 23 ft. wide. North Arvada Middle School, Arvada, Colorado, 1996 – 1997. This work was executed with the participation of 15 eighth grade students. This is a traveling mural being shown throughout the Denver metropolitan area. Westword Arts Magazine declared this the Best Mural (in Denver) 1997.
To Nourish our Human Dignity/Confluence of Peoples, Inheritance of Struggle
Two murals: each 7.5 ft. high x 14 ft. wide, Unity through Diversity Mural Project, Memorial Union Building, University of Wisconsin at Madison, November, 1995-April, 1996. In the mural To Nourish Our Human Dignity, a culturally and ethnically diverse group of martyrs for civil rights and economic justice in the United States as they nourish a seedling that represents human dignity. "Confluence of Peoples Inheritance of Struggle" depicts many peoples, including racial minorities and dark-skinned peoples, coming to be included in the social, economic, and political life of the United States.
The Teacher as Liberator
Sculptural mural, 8.5 ft. x high x 18 ft. wide. North Carolina Center for the Advancement of Teaching, Cullowhee, North Carolina, April May, 1995. This mural depicts teachers as liberators of a humanity that has been confounded not only by ignorance, but also by confusing beliefs, values, and distractions. Painted with 23 North Carolina public school art teachers as a workshop on mural painting
In Peace and Harmony With Nature
Set of two murals: 12′ h x 15t w and 12′ h x 28t w. Two interrelated murals depicting humanity, represented by children dressed in folkloric costumes of 32 nations, coming to preserve our natural environment. Commissioned by and on permanent display at Denver International Airport, 1993-1995.
The Children of the World Dream of Peace
Set of two murals: 12′ h x 15′ w and 12t h x 28′ w. TWO interrelated murals depicting humanity abolishing violence and war. The mural characters are young children dressed in the festive or folkloric costumes of 80 nations, coming to beat their swords into plowshares. Commissioned by, and on permanent display, Denver International Airport, 1993-1995.
We Care Mural
Sculptural mural, approximately 14′ h x 45 t w. Commissioned by the San Luis Community Services, 1991. It was executed to be a traveling piece to raise awareness regarding the exploitation and possible ruin of the San Luis Valley's aquifer. It was exhibited in many areas of Colorado, including the State Capitol in Denver, 1992, and the State Fair in Pueblo, 1993.
Too Long in Darkness, Reaching for Light
Sculptural mural, 12 ft. high x 12 ft. base. Bayaud Enterprises, Denver, Colorado, 1989-1990. Planned, constructed, and' executed with the help, input of feelings, experiences, and hopes of people who suffer mental illness. Approximately 18 people who suffer chronic mental illness assisted me in all phases of this work including accompanying this sculptural mural on significant exhibitions around our state in 1990 – present.
The Torch of Quetzalcoatl
Sculptural mural in two forms, approximately 650 sq. ft. Commissioned by, and exhibited at the Denver Art Museum, November 1988-March 1989. Called the Best Museum Exhibit of 1989 in Denver by Westword Magazine, my sculptural mural drew more than 89,000 visitors during its four-month exhibit. Its theme: The Mexican-American community coming to rediscover the beauty and dignity of our culture and history.
Passageway of Values
Sculptural mural, I l' h x 12′ w. North High School, Denver, Colorado, 1987. Opposing structural forms contain depictions of negative and positive values in the lives of young people. This mural, which took 11 months to complete, was done with the participation of students.
Beyond This Cross…
Sculptural mural, 45 ft. base, 27 ft. transverse, 33 ft. height. Painted at Montview Boulevard Presbyterian Church and St. Patrick's Catholic Church, 1985-1986. Sponsored by Our Lady of Guadalupe Catholic Church, Denver, Colorado. This work portrays the Central American people struggling for a better life while faced with overwhelming poverty and oppression.
Let Us Walk Together
Sculptural mural, 12t h x 35′ w. Our Lady of Guadalupe Church, Denver, Colorado, 1984-1985. Constructed for traveling and placement in diverse locations in Denver, this work was directed at young people. It urges youths to reject drugs, violence, and gangs; and to embrace the challenge of greater values, constructive lives, and greater self-expectations.
Humanity In Harmony with Nature
Sculptural mural, 988 sq. ft. Bering Memorial United Methodist Church, Houston, Texas, 1980-1982. Depicts the destruction of our natural environment, and also its future rehabilitation. Sculptural mural in three components.
Free At Last?
8t h x 12′ w. Commissioned by Cuney Homes Housing Project, CH Residents Council, 1980. This work depicts the African-American looking in a mirror to view his/her inherent human beauty and dignity.
We Must Never Forget
18′ h x 21′ w. Cuney Homes Housing Project, Houston, Texas, 1980. Education as a source for liberation in the African-American community.
The People's Judgment
Approximately 800 sq. ft. Centro Aztlan, Houston, Texas, 1978-1979. An indictment against police brutality in Houston This enormous sculptural mural mysteriously disappeared in April 1983.
Admission Price (or, Three Women)
8 t h x 8′ w. Private residence, Houston, Texas, 1976. Representation of Chicana women faced with the demands of American life: to assimilate and progress at the expense of their cultural identity.
Rebirth of our Nationality
4,320 sq. ft., Continental Can Company, Houston, Texas, 1972-1973. Depicts the Mexican-American community rediscovering our cultural and historical identity. Executed with university students, other artists, and community youth.
Mestizo
5′ h x 12′ w. Lulac Village Housing Project, Grand Prairie, Texas, summer, 1969. On the racial and cultural mixture that comprises the Mexican-American.
Monterey Bay
Approximately 6′ h x 18′ w. Mess Hall Mural, Fort Ord, California, 1961.
American Panorama
Seventeen 6′ h x 7t w panels, mural size decorations, Conn Barracks Service Club, Schweinfurt, Germany, 1959-1960.
EXHIBITIONS
Eleven Chicano Artists
May 2-19, 1996
Flat Irons Center for the Arts
Boulder, Colorado